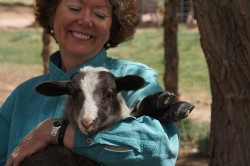 Teresa Jordan is an author and artist who lives in southern Utah near Zion National Park. Some time ago, she was asked to respond to a version of the Proust Questionnaire for the website 12 Questions. The questions were adapted from a parlor game popular with Marcel Proust and his crowd over a century ago, and were believed to shed light on a person's true nature. Teresa had fun with it and hopes you will, too.  If you are looking for more conventional biographical information, you can find it here.
 1. What is your hometown?
Iron Mountain, Wyoming, 43 miles northwest of Cheyenne. By the time I was old enough to remember, it consisted of no more than a one-room school, a couple of deserted buildings, and a post office in half a boxcar. (The other half of the boxcar served as a tool shop for the railroad.) Our family ranch was seven dirt-road miles further on. The post office is gone now and I don't think there is a single building standing at the place that is still identified as Iron Mountain on the map.
2. With what fictional character do you most identify?
It's easier for me to answer this from my teenage sense-of-self than from the present. My rancher father hoped I would grow up to be Dagny Taggart, the beautiful industrialist heroine of Ayn Rand's Atlas Shrugged, and have a future freed from a dependence on agriculture. I, on the other hand, aspired to be Alexandra Bergson in Willa Cather's O Pioneers and save the family farm.
3. In the movie of your life, cast an actor to play you.
This is even harder for me to answer than the last question. I asked a friend for help on this one. When she suggested Katherine Hepburn, I remembered why she is my friend.
4. What work of art speaks to your soul?
Two works of the German Expressionist Franz Marc make me weep every time I come across them: "The Red Horses" and "The Little Yellow Horses." It's hard to articulate just why they move me so, but Linda Hogan touches upon it in her poem, "The Other Voices":  "How did we come to be/ so unlike the chickens clucking their hearts out/ openly in the rain,/ the horses just being horses/ on the hillside…." I'm a great admirer of Rembrandt, inspired particularly by how his work gained power throughout his life as he learned to do more with less, using fewer strokes and more abstraction. Mark Rothko, too, entrances me, and I would give my right arm to own a work by Deborah Butterfield.
5. What books are you currently reading or recommending?
All of Dierdre McNamer's novels. She is such a powerful contemporary voice in the American West that I don't understand why there are still people who haven't read her. Right this minute I'm reading Haven Kimmel's She Got Up Off the Couch and love her voice, so perky, melancholic, surprising, and wise. I've just reread Victor Frankl's Man's Search for Meaning and suspect we'd all do well to revisit it every couple of years.
6. What song or album is currently in heavy rotation on your iPod?
Hal Cannon, by my eponymous husband. I also love an earlier album of his, Cluck Cluck, with the Secondhand Band. I've recently reawakened to Leonard Cohen and can't get enough of him. [Since I took part in this interview, Leonard Cohen has died–but I still listen to him for hours on end when I work in the studio. And my husband has formed a new group, 3hattrio, which frankly blows me away. They have put out three albums in three years, creating a new genre, American Desert Music. It's fun to be married to someone who continues to inspire me.]
7. What's the last movie that made you cry?
Of Gods and Men, the story of the Cistercian Trappist monks in Algeria who were killed by extremists in 1996.
8. Cat person or dog person?
Yes.
9. What is more important, truth or kindness?
Once I gave my husband a card that still makes me smile: On the cover, a woman looks in the mirror and asks, "Do I look fat in this dress?" Inside, the husband answers, "Do I look stupid?"
We negotiate between truth and kindness all the time, especially in our closest relationships. I think the bottom line is trust. The more we trust each other — which means, the more we act in trustworthy ways toward each other — the more we are able to ask for what we really want, and trust that an honest answer is a kind one.
10. How do you define sin?
I liked my husband's answer to this: Making the world go backwards through human actions.
11. How do you define virtue?
How about the opposite of the last answer: making the world go forward through human actions. Righteousness scares me to death and seems to underlie most of the really horrifying atrocities throughout history. I'm inspired by my mother's take on things: she was a good-enough housekeeper, a good-enough mom, a good-enough friend. She had a strong sense of right and wrong, took responsibility for her transgressions, and had a generous and forgiving nature. It always felt comfortable to some into her presence. Her husband and friends adored her, and so did I. I'd like to follow in her footsteps, but I get dogmatic at times.
12. Design your headstone: What does it say? What does it look like?
Many of my friends want to be cremated but that has always seemed to me like a waste of fossil fuel and good fertilizer. I want to be buried chemical-free in a wooden box and go back to the ground. Or a sky burial would be nice. But I do want a headstone: I've moved around so much that I'd like to finally have a permanent address.
I love the old hand-cut stones, especially the Celtic crosses or anything with a lamb or a bird (even though I know the lambs are reserved for infants.) The deepest peace I know is when I am fully present and listening, and I'd love to live in such a way that my survivors would feel moved to inscribe, "She listened well." Unfortunately, as you can tell from the length of my answers, I'm loquacious by nature. I fear they'll be tempted to write, "Finally, she shut up."