On Sunday I got two calls asking me if I knew who Mike Bell was. My great aunt and uncle, John and Marie Jordan Bell, had the Iron Mountain Ranch, near the Jordan Ranch where I grew up (and where Marie also was raised). I said I didn't know––John and Marie didn't have any children. Perhaps it was a son of one of John's brothers. I said it was odd that two people called me on the same day asking about a Bell I had never heard of before (I thought I knew John's extended family). It turns out that Christine Magnusson's seven-year-old son had unearthed this gravestone and she had posted it on Facebook. (The Magnusson family now lives on the Iron Mountain Ranch.) 
Charlie Farthing, whose family has ranched in Iron Mountain since the 1800s, was one of the people who called me and as we mused about it, he wondered, from the age, if it might be a dog. Well, of course! Marie had written about the death of her beloved dog Mike in her diary after he was attacked by another dog, and I had used that excerpt in my chapter about Marie in Riding the White Horse Home. I had never thought about Mike having a last name before, but Marie considered all her beloved four-legged friends full family members.
Marie wrote about Mike because she wanted him to be remembered, and it gave me pleasure to mention him in my book, which first came out in 1982. She made the gravestone for the same reason. And now, almost 75 years after his death, he is being remembered again. Viva, Mike! And Viva Marie! I don't have a picture of Mike but here is one of Marie and John not long after they were married with another canine friend from the 1920s or 30s. And below are her diary entries.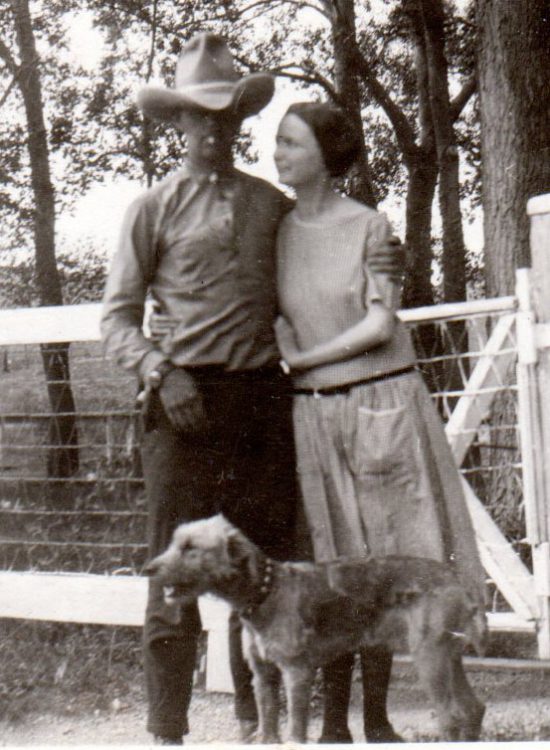 Sept 16, 1944: A party at Davis ranch. My Mike was killed. Cowboy [probably another dog] grabbed him in front of Floyd's car & it killed him. I loved Mike more than anything I had."
In the back of the diary, under "Memoranda," she had written, "Mike my boy your work is all done and you did it well" and then penned this remembrance:
Sept 16, 1944–MIKE
This day ended the life of my little dog Mike. He was borne Feb 26–1937. I loved him more every day he lived. I believe he was the sweetest dog I ever saw. He helped us put up hay. He didn't quite get it done. I guess that is true with all of us we never quite get it all done. He tried so hard and I know when I go he will come running to meet me as he always did and he will be just waiting for me for he was my dog and he knew no other dog would ever take his place. Good boy Mike. I won't have to tell you to be a good dog this time. And some of these days I will be seeing you. God bless you and keep you for me. Your pardner.
When I was working on White Horse, I transcribed all of Marie's diaries. It was hard work because she wrote in pencil and her hand writing was cramped. It was late at night and I was working away, and things were going on day by day on the ranch as they usually did and then: this entry where Mike was killed. I was all alone out in this little cabin where I wrote. It was almost midnight. And I just burst into tears! Amazing how alive these voices from the past remain!
I was very close to my great aunt Marie, and she has remained an inspiration. I use the brand I inherited from her, the Circle Mill Iron, as my logo. For me, it represents over a century of women's work in my family.

Here is my favorite picture of Marie, as a young woman working on the ranch where I, too, was raised.