View sketchbook pages from the Grand Canyon, Yosemite, Mongolia and Kyrgyzstan
I call the watercolor journals I keep when Hal and I travel "Sketchbook Expeditions." Two have turned into books:  Johnson Books published Field Notes from the Grand Canyon: Raging River, Quiet Mind in 2000, followed by Field Notes from Yosemite: Apprentice to Place in 2002.

I started keeping a watercolor sketchbook during a 12-day journey Hal and I took down the Colorado River in 1997. We had gone to the Grand Canyon looking for adventure; we found instead something that we hadn't even known we were missing.
Like so many others, Hal and I lead complicated lives. We answer to the fax and the phone, email and snail mail; we juggle a dozen hats, from institutional demands to teaching to writing to speaking to feeding our heifers to cutting our hay. I can't remember the last time I succeeded in carving out writing time that wasn't interrupted by something "urgent," or when I last cooked or gardened without a phone to my ear. An article I ran across in an airline magazine had a name for such division: polyphasia, doing more than one thing at a time, the disease of modern technological life.
In the Grand Canyon, we did only one thing: We went down the river. Our attention was entirely focused on where we were and what we were doing. We traveled with six guides and eighteen other guests, and with each passing day I could feel the power of such focus working on us all. It wasn't that we grew quieter: If anything, we laughed more freely, and grew easier with each other. It was as if an indefinable noise, a perpetual static, was gradually quieting down until it disappeared entirely. Even our eyes seemed clearer.
I brought along a sketchbook and a small kit of watercolors that Hal had given me for Christmas. I was no artist, but I had been sketching off and on since I taught a writing course for artists several years before in Portland, Oregon (if they had to write, they suggested, I had to draw), and the gift of watercolors a few months before had seduced me into my first attempts at painting, something I'd wanted to try ever since we moved to Nevada and I fell in love with the state's clear light. I'd been enjoying the paints in the privacy of my own kitchen, but as much as I yearned to use them in my journal, I was too self-conscious to paint in public. Still, I had tucked them into my dry sack, and inspired by the Canyon's majesty, I found myself pulling them out. I felt like I couldn't get enough of the beauty around me; trying to sketch or paint was a way to step inside it. For the first time, I didn't care if the paintings were good or bad; I just wanted to look closely enough to make them.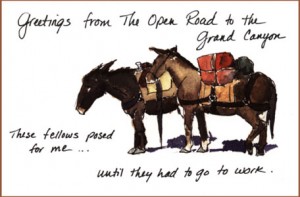 Hal and I are used to returning from trips exhausted. We came home from the Grand Canyon with an energy and clarity neither of us had felt in years. The river changed me. It opened my eyes to the beauty around me; it gave me the commitment to bring reverence into my daily life. The sketchbook was an unexpected gift from that trip, a way to step into focus and attention no matter where I was. That's the power of place, whether it is an exotic foreign land or our own backyard. If we take the time to be in place, to try and understand it, it will give us whatever we most need to find.
I've kept the habit of the sketchbook ever since we came home from the river. Hal and I soon started producing The Open Road, public radio features on the culture and folklife of the West, and I sketched wherever we went – from the Big Island of Hawaii to the Inside Passage of Alaska, to Yosemite National Park.
One of the hardest things for me, in the beginning, was to sketch in public. People do notice, and they often approach me, look over my shoulder, ask me questions. At first I felt terribly self-conscious. I wanted to tell them, "Don't expect too much." But gradually, as I have allowed this act of paying attention to capture me more and more, I have let go of such attachment to my own results. As I've grown more at ease with myself, something surprising has happened. Often now, if people approach me, they watch for awhile, and then one or more of them will go off a ways and pull out their own pencils and pads, and start sketching.
I would like to think that these pages might bring you some small degree of pleasure. Even more exciting is the thought that they might inspire you to enhance your own love affair with the world.
– Teresa Jordan
Read an excerpt from Field Notes from the Grand Canyon.
View some sketchbook pages.
Listen to The Open Road radio.
View some postcards from The Open Road
Prologue from Field Notes from Yosemite: Apprentice to Place
SaveSave
SaveSaveSaveSave
SaveSave
SaveSave
SaveSave
SaveSave