239 W. SR 9, Virgin, UT 84779
Open by appointment and for special events
bluegatestudio@gmail.com     801•532•1801

Blue Gate Studio in Virgin, Utah, just thirteen miles from the south entrance of Zion National Park, is the creative playground for Hal Cannon and Teresa Jordan, a quiet place where they write, make music and art, and produce features for public radio and TV. A private studio, rehearsal, and exhibit space, it is open by appointment and for special events such as open studio days, workshops, and house concerts.

Upcoming Events
Andy Hedges in Concert Sunday, April 30! (Note the date change)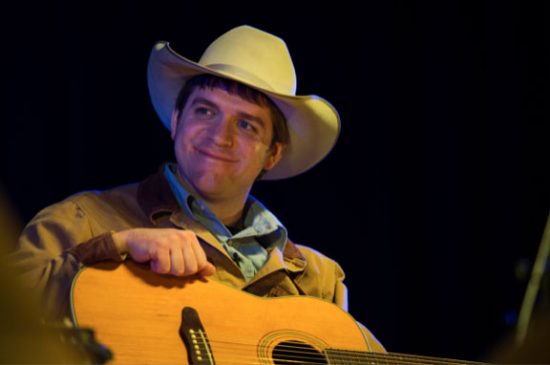 Andy Hedges brings to the stage a rich collection obscure cowboy songs, classic cowboy poetry recitations, dust bowl ballads, and blues. He taught himself to play the guitar when he was 14 when he began collecting traditional cowboy songs and learning classic cowboy poems. He has released nine albums, including four joint projects with songwriter Andy Wilkinson.
Andy also hosts a podcast, Cowboy Crossroads, which features interviews with poets, musicians, songwriters, and historians. Andy lives in Lubbock, Texas with his wife and children.
"Andy could very well carry on the traditions when all of us old guys are gone. I'd feel assured in knowing the music of our great American West was in good hands." – Don Edwards
The house concert is a venerable folk music tradition. Like old-time barn dances, house concerts bring folks together in a home or barn (or in this case, an art studio) and everyone is invited to bring food to share at intermission. All proceeds go straight to the musicians. Reservations are suggested as seating is limited. For more info: www.bluegatestudio.com or call 801-532-1802. Doors open at 6:30.
When: Sunday, April 30, 2017
Where: Blue Gate Studio on Highway SR9 between 300 W and 100 W in Virgin, Utah
Time: 7:00 pm (doors open at 6:30)
Seats: Suggested donation: $10, 18 & under free. All proceeds go to the artist. In the tradition of house concerts everywhere, you are invited to bring finger food to share at intermission and a beverage for yourself.
Seating is limited. For reservations, send a check to Blue Gate Studio, PO Box 790159, Virgin, UT 84779 or email bluegatestudio@gmail.com.