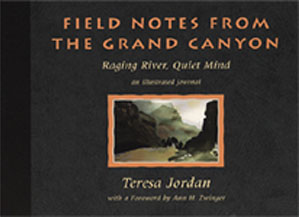 by Teresa Jordan
Johnson Books
A 12-day trip down the Colorado River through the Grand Canyon changed Teresa Jordan's life, as it has changed the lives of so many travelers before her. Jordan found that words alone could not express the splendor of a river journey through the most amazing geography on Earth. So she turned to a small box of watercolors she had tucked in her dry-sack and stole away from her group each day to paint. The luminous watercolor sketches that resulted capture her experience of a re-enchantment with the world.
In this age when we all seem to be going too fast and wondering what's missing, Teresa asks the question "What feeds us, and what do we merely consume, insatiably hungry for more?" The Grand Canyon offered an answer, a reawakening to the beauty that surrounds us that is as germane to our everyday surroundings as it is to the dazzling reach of the Grand Canyon itself.
"Field Notes from the Grand Canyon is an extraordinary field journal of an extraordinary journey, brushed and scribed by an extremely skilled and generous hand, through an observant eye, and an expressive, discerning intelligence."
– Ann H. Zwinger (from the Foreword)

"Field Notes from the Grand Canyon is like a polished river stone, a small package rich with color and depth."
– Salt Lake Tribune
"Exhilarating and inspirational."
– Santa Cruz Sentinel
"A delight."
– High Country News
Buy a signed copy from the author

Read an excerpt.
Preview sketchbook pages from Field Notes from the Grand Canyon.
Listen to "The Open Road" radio piece,"Rafting the Grand Canyon," with Hal Cannon and Teresa Jordan.