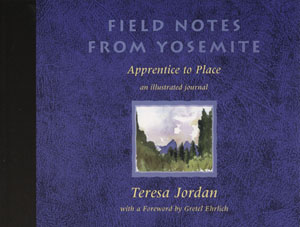 by Teresa Jordan
Johnson Books
Wallace Stegner once wrote, "We depend upon wilderness increasingly for relief from the termite life we have created." But that poses the question: If wilderness is our sole antidote, don't we risk loving it to death, using it up as we have used up so much else? How can great places teach us to live more fully within our daily lives? What might this mean for the health of wilderness itself?
Author and artist Teresa Jordan looks for the answers in three essays of apprenticeship, learning from the work of two previous students of Yosemite – naturalist John Muir and the painter Chiura Obata – as well as from those most elemental of teachers, the rocks and the trees. Both Muir and Obata used painting and drawing as primary tools for understanding, and Jordan's own watercolors illuminate her journey of exploration.
"Field Notes from Yosemite is [Jordan's] apprenticeship in watercolors and text to rock, tree, and glacier – her small homage to that singular place. [She reminds us] that apprenticeship, not expertise, is what allows us to see, and to revel in, the glories of the Range of Light."
– Gretel Ehrlich (from the Foreword)
Buy a signed copy from the author
Go to Field Notes from the Grand Canyon (volume 1 of this series).