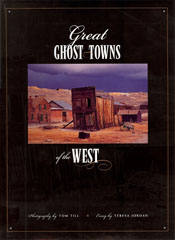 by Teresa Jordan with Photographs by Tom Till
Graphic Arts Center Publishing,
What is it about ghost towns that so intrigues us? Why are we compelled by abandonment and ruin, a sense of things left behind? Great Ghost Towns of the West probes such questions as award-winning photographer Tom Till's evocative images capture the towns in both their remnants and their auras, and Jordan's text conveys the ghosts in the stories of the people who passed through.
Tom Till is one of the West's most published photographers and the photographer for almost thirty books.

"Till's thoughtful contemporary photos complement Jordan's engaging narrative."
— Sunset Magazine

Buy This Book