About The Year of Living Virtuously (Weekends Off)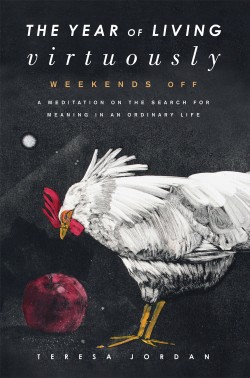 "As a refresher course in living a more moral life, Ms. Jordan launched a year-long exploration of how virtue and vice play out in ordinary life…. The stimulating results are gathered in the engaging and moving collection The Year of Living Virtuously (Weekends Off)." Tom Nolan, THE WALL STREET JOURNAL. Read the full review here.
"This is a book you will want to have on your bedside for the rest of your life." Betsy Burton, RADIOWEST Holiday Book Show.
"Thoughtful reflections on virtue and vice. Jordan … delves deep, especially in the more extended essays, into the essence of contrasting modes of being. [This] engaging collection abounds with provocative inquiry, offering plenty of food for thought." –KIRKUS REVIEWS. Read the full review here.
"Writer and visual artist Jordan takes a page from Benjamin Franklin and embarks on a yearlong quest to master the 13 virtues Franklin explored in his 'project of arriving at moral perfection.' While perfection is not in the cards, the process is both fun and eye opening." —O! MAGAZINE
"Author and visual artist Teresa Jordan set to herself a unique task: a year of meditation on virtues such as temperance, moderation, cleanliness, chastity and humility in the form of an online diary, taking the weekends off for a few vices. The result, however, was far from an uptight series of lectures on right living. Instead, the funny, deeply personal essays crafted by Jordan offered insight into the way we think about virtues, and how they manifest themselves in our lives in ways we don't always expect." —SALT LAKE CITY WEEKLY, Readers Choice for Best Nonfiction Book, 2015.
"With philosophical dexterity, she explores, searches and scrutinizes commonplace notions of right and wrong… This compelling set of reflections is poetic in its scope, and Jordan's meditations are thought-provoking and insightful." DESERET NEWS. Read the full review here.
"Teresa Jordan has given her readers an enormous gift. We were waiting for this stunning, graciously written landmark of a book, needing it desperately, without even realizing how much – time for celebration." — NAOMI SHIHAB NYE, author of A Maze Me: Poems for Girls
"When you begin this book of modern meditations, you will simply want to keep reading it, having fallen under the spell of Teresa Jordan's marvelous and many-faceted investigation into our notions of virtue and vice. You can open The Year of Living Virtuously to any chapter—to Lust or Greed or Gluttony, or Balance, Manners, or Moderation—and find wit and quiet wisdom. The extraordinary stories and sources Jordan draws on for her meditations, ranging from the personal to the neuro-cognitive, remind us that we can chose where to place our attention and, as we live more mindfully, not only endure the difficult moments but find the tranquility we seek." — JUDITH FREEMAN, author of Red Water and The Long Embrace
"The essays have the power to keep percolating in memory….I recommend reading this book in short bursts, letting its various modalities have their moments, letting them linger in the mind. But mostly, I just recommend reading it, in whatever way makes sense to you. Jordan ranges widely and confidently through many worlds, with her humane voice making for a pilgrimage that is both searching and pragmatic."  – Lisa Bickmore, 15 Bytes. Read the full review here.
About Riding the White Horse Home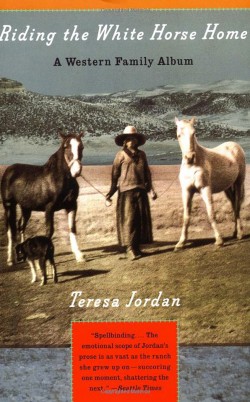 "Spellbinding. The emotional scope of Jordan's prose is as vast as the ranch she grew up on — succoring one moment, shattering the next."
— SEATTLE TIMES

"Riding the White Horse Home is really a story of people beautifully written in evocative prose and without literary cliche. Jordan's clear voice, as fresh as the endless Wyoming wind, carries the rich scent of life lived to the fullest despite all the hardships. [It] is a joy to read and reread. Full of humor and compassion, sorrow and pain, anecdotes, diary entries and descriptions, it glows like the gilded edge of a cloud at sunset."
— BLOOMSBURY REVIEW

"A haunting and elegant memoir, evoking the ghosts of … family and those spirits inherent in the landscape…. Riding the White Horse Home becomes the story of us all." – TERRY TEMPEST WILLIAMS, author of Refuge and When Women Were Birds
About Cowgirls: Women of the American West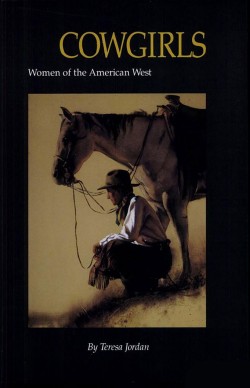 "This is an absorbing portrait of the highly independent, often colorful women who have long stood next to the men of the American West." – PUBLISHERS WEEKLY
"Let Jordan introduce you to these women. You won't encounter them anywhere else. Every one of them is worth knowing. their lives are heroic in the most literal sense of the word. Cowgiirls are American originals." – LOS ANGELES TIMES
"Jordan's book celebrates the pluck and grit of these overlooked women. Reading about them is as easy as their work is hard." – WASHINGTON POST
About Field Notes from the Grand Canyon: Raging River, Quiet Mind
"Field Notes from the Grand Canyon is an extraordinary field journal of an extraordinary journey, brushed and scribed by an extremely skilled and generous hand, through an observant eye, and an expressive, discerning intelligence." – ANN H. ZWINGER (from the Foreword)

"Field Notes from the Grand Canyon is like a polished river stone, a small package rich with color and depth." – SALT LAKE TRIBUNE
""A delight." –HIGH COUNTRY NEWS
About Field Notes from Yosemite: Apprentice to Place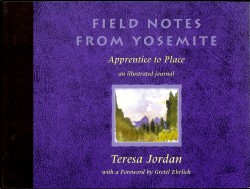 "Field Notes from Yosemite is [Jordan's] apprenticeship in watercolors and text to rock, tree, and glacier – her small homage to that singular place. [She reminds us] that apprenticeship, not expertise, is what allows us to see, and to revel in, the glories of the Range of Light." – GRETEL EHRLICH (from the Foreword)