A Few Words about the Monotype Process and Its History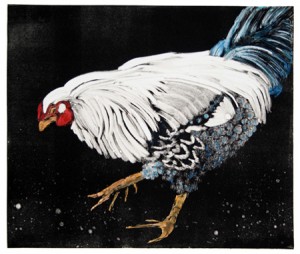 Like a painting, each monotype is a one-of-a-kind piece of art.  Where traditional printmaking techniques like etching and wood block start with a plate that is etched, engraved or carved, the monotype is created by working up an image on a smooth plate.  Generally, the artist rolls ink onto the plate and then removes it with rags, brushes, or other tools to reveal whites and grays.  The viscous quality of ink on a smooth surface creates expressive marks that are very different than those created by painting or drawing directly on paper or canvas.  The artist then runs the plate through an etching press, which applies great pressure and transfers the image to paper. Because the plate is not affected during the process, it can be cleaned after each image and used again.  Color can be added by applying it to a second plate of identical size, registering it over the first image on paper, and running both through the press again.  Generally, each color in a finished print represents one run through the press. Color can also be hand applied with brushes after the print is dry. While etched or carved plates can be re-inked for dozens of reproductions, each monotype exists as an only child.
The Renaissance artist Giovanni Benedetto Castiglione first experimented with monotype in the 1640s, and the process has been used and infinitely adapted ever since by such artists as Rembrandt, Degas, Chagall, Gauguin, Matisse, Picasso, and Diebenkorn
Teresa Jordan works on acrylic plates with etching inks and prints on Somerset Velvet and BFK Rives paper.  For hand coloring she uses both water and oil-based media.