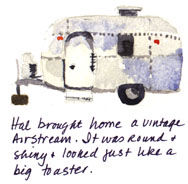 The idea for The Open Road radio series was born on August 19, 1995, although we didn't recognize it at the time. That was the date of our fourth wedding anniversary, and Hal arrived home early from work and honked as he came up the drive. I looked out my office window and was blinded by an unearthly light. As I peered against the glare, I realized that I was looking at the reflection of the late afternoon sun off my anniversary present – a vintage Airstream trailer in mint condition. It was small and round and beautifully shiny. It looked like a big toaster, which was appropriate since a friend reminded us later that fourth anniversaries are traditionally celebrated with small appliances.
That night, as Hal and I pored over the owner's manual – original to 1966 – we were introduced to the world of Wally Byam, the driving force behind the world's first and most enduring commercially produced travel homes. "You have entered a new way of life," he assured us in the first few paragraphs, and he pledged "to place the great wide world at your doorstep…, to keep alive and make real an enduring promise of high adventure and faraway lands…, to play some part in promoting international goodwill and understanding among the people of the world through person-to-person contact."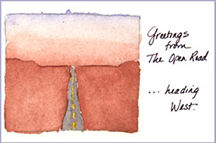 No one loved the open road more than Wally Byam, and his bright and beautifully engineered aluminum pods capture much of the American Dream. We Americans are a restless lot. Every year nearly one-fifth of us change our addresses, and we have done so for over a century; even if we don't actually pull up stakes and acquire a new zip code, most of us dream of travel. We are a curious people: We want to see where and how other people live, and we are simply wild for the allure of open country and unlimited possibility. At the same time, we're attracted to the idea of habit and home. Who lives here? we wonder as we pass through. What are their lives like? What does it mean to be rooted in place? What would our lives be like if we lived here? The urge to escape is coupled with the urge to connect. Even Mr. Byam and the tens of thousands of contemporary nomads who live on the road in travel homes talk of the camaraderie of their mobile neighborhoods, of the culture and customs and folkways that they hold in common. Most of them would tell you that's the whole point.
Hal and I feel the contradictory tugs of rootedness and roaming. We were both born out of long connections to a particular place. Hal came from Utah's Mormon pioneers; I came from generations of Wyoming ranchers. We have both spent much of our adult lives attempting to gather and understand the stories of Western people, especially those usually overlooked by the history books. Hal is the founding director of the Western Folklife Center in Elko, Nevada. Its premier event, the Cowboy Poetry Gathering, has attracted world attention; the Center also conducts field work and produces a wide variety of exhibits, concerts, broadcasts, and tours showcasing the music, arts, and stories of individuals and groups as various as the Tódi Neesh Zheé Singers, who accompany traditional Navajo song and dance all across Indian country, and the Nature Boys, a group of Samoan street singers from Seattle. I spent several years collecting oral histories, first of ranch and rodeo women and later of miners, and have written extensively about rural culture.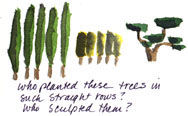 But even as we have been most drawn to those people rooted in place and in tradition, we have been wanderers. That night of our fourth anniversary, as we sat in the new home it had taken us three years to build on a small ranch in northeastern Nevada, we counted up the moves each of us had made since college – 15 addresses in 18 years for me, 26 in 25 years for Hal. We were working hard to make a permanent home in this ranching community we had adopted as our own, but the very fact of the Airstream in the driveway proved we still had itchy feet.
That night we began to form the questions that would coalesce into our radio series: What inspires people to travel? Why do they head for certain places? What do they see as tourists? We were even more compelled by the question of what people usually don't see as tourists. Who is native to this place? How have they changed it? How has it changed them? What do they know that is indigenous to this place? Three years later, with those questions in mind, we set off on The Open Road, exploring America's favorite places.